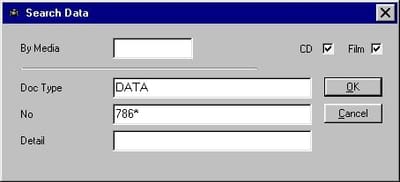 Data Manager Software from Imaging Services
Data Manager allows you to access images from DVD or from a network hard drive at the touch of a button.
Once the images have been scanned an associated index is keyed or captured from barcode or OCR. To retrieve a document enter the search criteria including wildcards. Any field, or combination of fields including wildcards can be used. In the above example any document with the Doc Type 'DATA' and whose No starts with '786' will be found.
The search results are shown in a Hitlist.